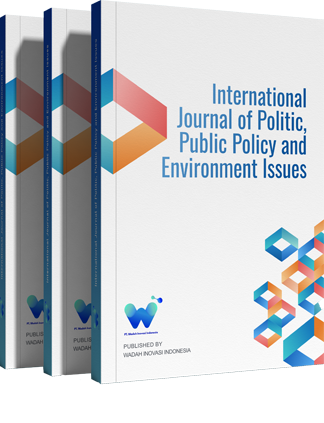 Supervision of The Campaign Stages In The Election of Regional Heads In Banjarbaru, Indonesia
Keywords
Election of Regional Heads Bawaslu
Declarations
Publisher's Note
Wadah Inovasi Indonesia remains neutral with regard to jurisdictional claims in published maps and institutional affiliations.
References
Adhani, Hani. 2019. Pilkada Dispute Settlement from the Supreme Court to the Constitutional Court. Depok: Rajawali Press.
Andri, Aulia. 2015. Grounding Participatory Supervision in the Regional Head Election. Jakarta; Bawaslu Journal 7th Anniversary Edition.
Asshiddiqie, Jimmy. 2009. Introduction to Constitutional Law. Depok: Rajawali Press.
Berger, Peter L. & Thomas Luckmann. 1990. Social Interpretation of Reality: Treatise on the Sociology of Knowledge (translated from the original book The Social Construction of Reality by Hasan Basari). Jakarta: LP3ES.
Fuady, Munir. 2014. The Concept of a Democratic State. Bandung: Refika Aditama.
Hoesein, Zainal Arifin. 2010. "The Regional Head Election in the Transition to Democracy", Journal of the Constitution, Vol. 7 Number 6.
Juanda. 2004. Local Government Law. Bandung: Alumni.
Jurdi, Fajlurrahman. 2015. Introduction to General Election Law. Jakarta: Kencana.
Kartasapoetra, RG 2010. Systematics of Constitutional Law. Jakarta: PT. Character Building.
Kurniawan, Gadung. 2015. "Freedom as the Essence of Democracy", Innovative Journal, Vol.8 Number 1.
Mahuni, 2018. Public Participation in the 2014 General Election of Members of the DPRD for the Province of South Kalimantan in the Electoral District of Banjarmasin. (Doctoral Dissertation) Bandung, Unpad.
Mangusong, Nurainun. 2010. Constitutional Law I. Yogyakarta: Faculty of Sharia and Law Press.
Muchsan. 1992. Monitoring System of the Actions of Government Officials and State Administrative Courts in Indonesia. Yogyakarta: Liberty
Muslimin, Hussein. 2019. "The Dynamics of Regional Head Elections Based on Legislation in Indonesia", Jurnal Cakrawala Hukum, Vol. 10 Number 1.
Pudji Astuti, Tri Marhaeni. 2011. Gender Construction in Social Reality. Semarang: Unnes Press.
Purnamawati, Evi. 2020. "The Journey of Democracy in Indonesia", Vol.18 Number 2.
Purnaweni, Hartuti. 2004. "Indonesian Democracy", Journal of Public Administration, Vol. 3 Number 2.
Ruslan, Rosady. 2008. Tips and Strategies for Public Relations Campaigns. Jakarta: Rajawali Press.
Ruslan, Rosady. 2017. Research Methods Public Relations and Communication. Jakarta: PT Raja Grafindo Persada.
Siagian, Sondang P. 2010. Analysis and Formulation of Organizational Policy and Strategy. Jakarta: PT. Holy mountain.
Sorik, Sutan. 2019. "Democracy Arrangements and Elections in Indonesia". Journal of Political Research, Vol. 16 Number 1. Sugiarti, et al. 2003. Development in Gender Perspective. Malang: University of Muhammadiyah Malang.
Suswanto, Gunawan. 2015. Election Oversight Participatory. Jakarta: Erlangga Publisher.
Turner, BS (2000). Sociological theories of modernity postmodernity of. Yogyakarta. Student Library.
Tutik, Quarter Point. 2015. Construction of Indonesian Constitutional Law Post Amendment to the 1945 Constitution. Jakarta: Prenada Media Groups.
Yusyanti, Diana. 2015. "Legal Dynamics of Regional Head Elections towards the Democratic Process in Autonomy Regional", Journal of National Law Development, Vol. 4, Number 1.
Law Number 7 of 2017 concerning General Elections.
Law Number 10 of 2016 concerning the Election of Governors, Regents, and Mayors.
Government Regulation of the Republic of Indonesia Number 6 of 2005 concerning Election, Ratification, Appointment, and Dismissal of Regional Heads and Deputy Regional Heads.
Regulation of the General Elections Supervisory Agency of the Republic of Indonesia Number 28 of 2008 concerning Supervision of the General Election Campaign.
General Election Commission Regulation Number 33 of 2018.
Copyright and permissions
This work is licensed under a Creative Commons Attribution-ShareAlike 4.0 International License.