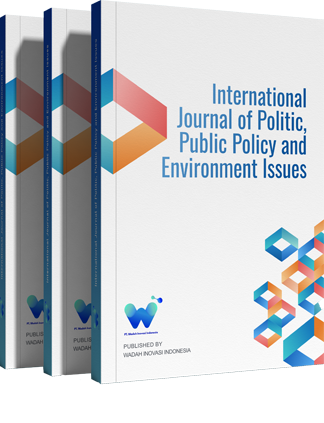 Community Empowerment Strategy in Management of Swallow's Nest Cultivation to Increase Regional Original Income In Kotabaru District
Keywords
Community Empowerment Strategy
Declarations
Publisher's Note
Wadah Inovasi Indonesia remains neutral with regard to jurisdictional claims in published maps and institutional affiliations.
References
Adiwicaksana. (2006). Pengelolaan Sarang Burung Walet di Taman Nasional Betung Kerihun Provinsi Kalimantan Barat (Studi Kasus Di Desa Tanjung Lokang, Kecamatan Kedamin, Kabupaten Kapuas Hulu, Provinsi Kalimantan Barat). Tesis. Departemen Konservasi Sumberdaya Hutan Dan Ekowisata Fakultas Kehutanan. Institut Pertanian Bogor. Bogor.
Anwar, Syaeful. (2020). Strategi Pemberdayaan Masyarakat Di Kesatuan Pengelolaan Hutan Produksi Unit X Sintang Utara Provinsi Kalimantan Barat. Thesis. Departemen Manajemen Hutan Fakultas Kehutanan dan Lingkungan Institut Pertanian Bogor. Bogor
Baheramsyah. Kementan Beri Pendampingan untuk Usaha Sarang Burung Walet. 23 Januari 2021. Selengkapnya di https://infopublik.id/kategori/nasional-ekonomi-bisnis/504861/kementan-beri-pendampingan-untuk-usaha-sarang-burung-walet
Banjarmasin Post. (2018). BPPRD Kotabaru Targetkan Penghasilan Pajak Walet Rp 5 Miliar. Rabu, 3 Januari 2018 Selengkapya di https://banjarmasin.tribunnews.com/2018/01/03/bpprd-kotabaru-targetkan-penghasilan-pajak-walet-rp-5-miliar
Manopo, Soraya Gabriel. (2015). Analisis Efektivitas dan Kontribusi Penerimaan Pajak Sarang Burung Walet Terhadap Penerimaan Pajak Daerah di Kabupaten Minahasa. Jurnal EMBA: Jurnal Riset Ekonomi, Manajemen, Bisnis dan Akuntansi Vol 3, No. 3.
Mardikanto, Totok, Poerwoko Soebianto. (2019). Pemberdayaan Masyarakat Dalam Perspektif Kebijakan Publik. (Bandung: Alfabeta).
Neuman, Lawrence W. (2000). Social Research Methods: Qualitative and Quantitative Approaches. (Needham Heights: Allyn and Bacon).
Peraturan Daerah (PERDA) Kabupaten Kotabaru Nomor 26 Tahun 2017 tentang Izin Pengelolaan Dan Pengusahaan Sarang Burung Walet.
Peraturan Daerah (PERDA) Kabupaten Kotabaru Nomor 10 Tahun 2011 tentang Pajak Sarang Burung Walet
Peraturan Daerah No. 26 Tahun 2017 tentang Perizinan dan Pengusahaan Sarang Burung Walet Kabupaten Kotabaru
Peraturan Daerah Pemerintah Kabupaten Kota Baru Terkait Budidaya Burung Walet. Selengkapnya di https://peraturan.bpk.go.id/Home/Details/89972/perda-kab-kotabaru-no-26-tahun-2017
Putra, AH & Sompa, Andi Tenri & Syafari, Riduansyah M, (2021). Empowerment Of Fishermen Community Joint Business Group (Kub)-A 2018 Case Study On Fishing Boat Relief In Kusan Hilir District, South Borneo, Indonesia. European Journal Of Human Resource Management Studies 5 (1).
Sompa, Andi Tenri & Al Syahrin, M Najeri. (2021). Sustainable Community Empowerment Efforts Through the Development of Small and Medium Enterprises of Eceng Gondok. The 2nd International Conference on Social Sciences Education.
Syafari, Riduansyah M, (2020). Pemberdayaan Masyarakat Dalam Paradigma Governance serta buku yang berjudul Administrasi Pembangunan dan Pemberdayaan Masyarakat. CEPP ULM: Banjarmasin
Syafari, Riduansyah M. & Azwari, Trisylvana. 2021. Model Efektifitas Pemberdayaan Kelompok Pengolah Hasil Perikanan di Kota Banjarmasin. Pustaka Banua: Banjarmasin.
Zuliyah, Siti. (2010). Strategi Pemberdayaan Masyarakat Desa Dalam Menunjang Pembangunan Daerah. (Journal of Rural and Development Vol. 1 No. 2).
Copyright and permissions
This work is licensed under a Creative Commons Attribution-ShareAlike 4.0 International License.