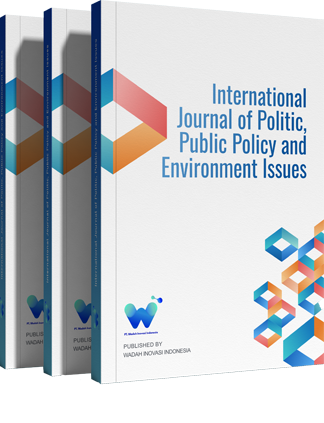 Empowerment of Women Through The Group of Marketers of Pomegranate Fisheries Products Manurung Village In Tanah Bumbu Regency
Keywords
processing marketers of fishery
Declarations
Publisher's Note
Wadah Inovasi Indonesia remains neutral with regard to jurisdictional claims in published maps and institutional affiliations.
References
Anwar (2007). Women's Empowerment Management Change (SocialThrough Learning Vocational Skill At Fisherman Family). Bandung: Alfabeta
Djafar, R., & Sune, U. (2019). Based Poverty Reduction Community Empowerment in Pohuwato. Madani Journal of Social Politics and society, 11 (3), 246-270.
Hakim, Abdul (2004). economic development.Yogyakarta: Ekonotisia
Harris, A. (2014). Understanding Community Empowerment Approach. Jupiter, 13(2), 50-62.
Aaron, Rachajal and Ardianto (2011). Communication Development and Social Change: Perspectives Dominant to Review and critical theory.Jakarta: Rajawali Press
Iis Isparjiati. (2018) The Role of Women Housewife in Improving Social Welfare Through Economic Activity ProductiveFamilies.Journals.Yogyakarta: B2P3KS
Iskandar Putong. (2002). Introduction to Micro and Macro Economics Edition 2. Jakarta: Ghalia Indonesia
Kancana, S., Lester, P., & Nurficahyanti, F. (2016). Marketers Communication Model for Empowerment of Women In Informal Sector in Yogyakarta. ASPIKOMJournal, 2(6), 444-458.
Kusumaningrum, A. (2019). State Sovereignty on Airspace and Air Transport InternationalDevelopment.Brawijaya University Press.
Moeljarto Tjokrowinoto (2004). Development (Dilemmas and challenges).Yogyakarta: Student Library
Moleong, Lexy J. (2011). Methodology Qualitative ResearchRevisedEdition.Bandung: PT. Youth Rosdakarya.
Moleong, Lexy J. 2007. Qualitative research methodology.Bandung: Youth Rosdakarya.
Najiati et al. (2005). Community Empowerment inPeatland.(Bogor: Wetlands International - 1P).
Regulation of the Minister of Marine and Fisheries of the Republic of Indonesia Number 10 the Year 2014 on Guidelines for Implementation of the National Program for Community Empowerment Marine and Fisheries.
S. Prijono Onny. (1996). Empowerment Concepts, Policy, and Implementation. Jakarta: Center for Strategic and International Studies (CSIS)
Sajogyo and Pudjiwati. (2007). Rural Sociology set ofreadings.Yogyakarta: Gadjah Mada University Press.
Soekanto Soerjono. (2004). Sociology of thefamily.Jakarta: Raja Grafindo Persada
Sompa, AT (2021). Community Economic Empowerment in Alalak Island Village, Barito District, Barito Kuala, 2017.
Sompa, AT (2021). Community Empowerment Strategy in Handling Efforts of Stunting in Malutu Village, Hulu Sungai Selatan.
Sompa, AT (2021). Empowerment of Family Economy through the Program for Increasing the Prosperous Income Facilities in Tanah Laut Regency.
Subandi (2011). Economic Development (first printing). Bandung: Alfabeta
Sugiyono. (2012). Quantitative Research Methods, Qualitative and R &D.Bandung: CV Alfabeta.
Edi Suharto. (2010). Build Communities Empowering People. Bandung: Refika Aditama
Suherman Rosyidi. (2011). Introduction to Economics Approach To Micro and Macro Economic Theory. Jakarta: RajaGrafindo Persada
Syandrawati, KNI. (2016). Women's Empowerment Through Processing Assistance In Meeting the Needs of Oyster Mushroom Family Mushrooms in SMEs Kampung Desa Buduran Wadungasih District of Sidoarjo. A + Plus Unesa, 5 (2), 1-7.
Teguh Ambar, S. (2004). Partnership and Empowerment Models.Yogyakarta: Gava Media
Tobirin. (2013). formalization Politics and symbolization Community Empowerment in Rural Poverty Alleviation in. Journal of the Society, Culture, and Politics, 26 (4), 265-275.
Totok Mardikanto (2013). Community Empowerment in the Perspective of public policy.Bandung: Alfabeta
Law 20 of 2008 About About Micro, Small, and Medium Enterprises.
Vitayala Aida. (2010). Empowerment of Women of the Ages. Bogor: IPB Press.
Widiastuti, N., & Kartika, P. (2017). Application of Creative Business Group Model Islami (cookies) in the Women's Empowerment Based Boarding School. Empowerment: Scientific Journal of School EducationProgram, 6(2), 20-29.115
Copyright and permissions
This work is licensed under a Creative Commons Attribution-ShareAlike 4.0 International License.