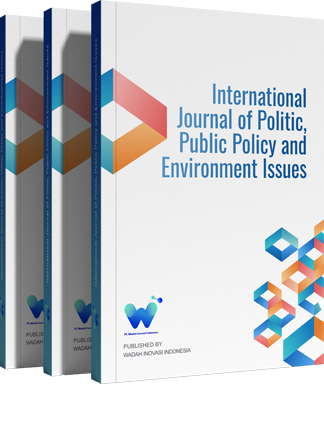 Implementation Of An Electronic Voting System (E-Voting) In Village Head Elections In Maburai Village, Tabalong District, South Kalimantan Province
Declarations
Publisher's Note
Wadah Inovasi Indonesia remains neutral with regard to jurisdictional claims in published maps and institutional affiliations.
References
Akbar, Idil. 2016. Simultaneous local elections and the dynamics of Indonesian politics and local government, Journal of Government Science, Vol.2. No.1 April 2016
Azwan, Awang. 2010. Implementation of Village Government Empowerment. Yogyakarta: Student Libraries
Budiarjo, Miriam. 2010. Fundamentals of Political Science . Jakarta: PT Gramedia Pustaka Utama. Jakarta.
Budiono, Bambang. 2000. Tracing the Democratic Process of Rural Communities in Indonesia . Yogyakarta: Renika.
Darmawan, Ikhsan., Nurul Nurhandjati & Evida Kartini. 2014. Understanding E-Voting . Depok: Indonesian Torch Library Foundation.
M. Nazir, " Research Methods ", Ghalian Indonesia, Jakarta, 2003
Muarif, Oentong. 2000. The Choice of Village Heads of Poisoned Democratic Communities. Yogyakarta: Mandalas.
Muhammad Yunus. 2015.Simultaneous Village Head Elections in 2015. Thesis Department of Political Science, State Islamic University Alauddin Makassar.
Ngabiyanto et al. 2006. Anthology of Politics and Law . Semarang: Home of Indonesia.
Rini Anggrini Syukri. 2021. Lineage in the Village Head Election in Binuang Village, Balasu District, Barru Regency in 2021. Thesis of the Faculty of Social and Political Sciences, University of Hasanuddin Makassar.
Rostina "2015" Analysis of the Implementation of Simultaneous Village Head Elections in Benteng Tellue Village, Amali District, Bone Regency in 2015. Thesis Study of Governance at Hasanuddin University, Makassar
Simangunsong, Fernandes. 2016. Performance of the Community Empowerment Agency and Village Government (BPMPD) in the Implementation of Simultaneous Village Head Elections Using the Electronic Voting (e-voting) Method in Bantaeng District, South Sulawesi Province (Case study on batch 1 simultaneous village head elections). Journal of Political Science and Communication. 6(1):68-69
Sugiyono. 2012. Educational Research Methods Quantitative, Qualitative and R&D Approaches. Bandung: Alphabet
Sulistiowati Ratna. 2016. Village Head Candidate Winning Strategy (Case Study of Police Victory in the 2015 Village Head Election in Kebasen Village, Kebasen District, Banyumas Regency. Political Science Thesis, Semarang State University.
Syafie, Inu Kencana. 2011. Introduction to Government Science . Bandung: PT Refika Aditama.
Copyright and permissions
This work is licensed under a Creative Commons Attribution-ShareAlike 4.0 International License.