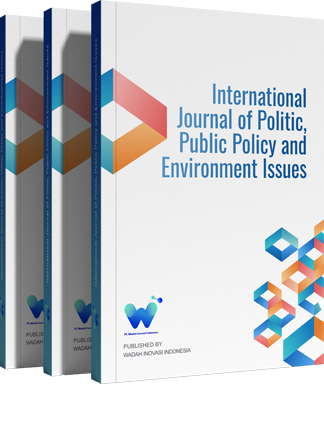 The Influence of Leadership Style and Interpersonal Communication On The Performance of The Public Relations Department In The Regional Police Force South Kalimantan
Keywords
Interpersonal performance
Declarations
Publisher's Note
Wadah Inovasi Indonesia remains neutral with regard to jurisdictional claims in published maps and institutional affiliations.
References
Bulgansyah Ritonga (2021). The Influence of Interpersonal Communication, Leadership Style, Organizational Culture on Teacher Performance in MAN 2 Model.
Erni Sukmawati, et al (2020), The Influence of Leadership Style, Communication, Training, Work Ethic, And Individual Characteristics On Employee Performance.
Fajar Taufik Putranto, Dewi Susita, Agung Wahyu Handaru (2019). The Influence Of Leadership Style And Interpersonal Communication On Work Effectiveness With Job Satisfaction As Mediation Variables.
Hanna Laili Rashuan, et al (2020). Influence of Leadership Style and Interpersonal Communication on Employee Performance of FKIP UNS.
Lamirin (2020). The Effect of Interpersonal Communication and Emotional Intelligence on the Performance of the Dharmakirti Vihara Management in Palembang City.
Mukhtar, Risnita, Muhammad Anggi Manumanoso Prasetyo (2020). The Influence of Transformational Leadership, Interpersonal Communication, and Organizational Conflict on Organizational Effectiveness).
Rifqi Amri Putri (2018). Leadership Style and Interpersonal Communication of Employee Satisfaction and Its Effect on The Employee Performance.
Sugiyono. 2010. Educational Research Methods Quantitative, Qualitative, and R&D Approaches. Bandung: Alfabeta
Sugiyono. 2018. Quantitative, Qualitative, and R&D Research Methods, Alfabeta publisher, Bandung
Susanto AB; Koesnadi Kardi. 2003. Leaders and Leadership. Jakarta: Grafindo Persada
Sutopo, Ariesto H.. 2012. Information and Communication Technology in Education. Yogyakarta: Graha Ilmu.
Terry, GR. 2010. Human Resource Management. First Edition. First Print. Jakarta : Kencana Publisher
Terry, George R. 2004. Management Principles. Translation of J. Smith DFM Jakarta: Earth Literacy.
Thoha, Miftah. 2016. Leadership in Management. Jakarta: Rajawali Pers
Timpe, A. Dale (ed.), 1999. Human Resource Management Series: Leadership, Vol. 2. Jakarta: Gramedia Asri Media.
Tintin, S. 2010. The Influence of Leadership Style on Member Performance at Sbu Pos Prima Operations Directorate of PT Pos Indonesia (Persero). Journal of Management, Vol.9, No.2, May 2010 Triyanto, A. and Sudarwati. 2014. The Influence of K
Tulus, Mohammad Agus. 1992. Human Resource Management, Student Handbook. Jakarta: Gramedia Pustaka Utama
Urip Widodo, Management at a Glance, Manpower Bulletin, Nakertrans Number 12, Year III, 1982.
Vembrianto, ST. 1993. Sociology of Education. Jakarta: PT. Grand.
Wahjosumidjo, 2015, Leadership and Motivation, Ghalia Indonesia, Jakarta.
Wexley KN, & Yukl GA. (2005). Organizational behavior and personnel psychology, Jakarta: Bina Aksara.
Wibowo. 2016. Performance Management. Fifth edition. 10th printing. Jakarta: Rajawali Press.

Indonesian National Police Regulation Number 14 of 2018 Concerning the Organizational Structure and Work Procedure of the Regional Police
Copyright and permissions
This work is licensed under a Creative Commons Attribution-ShareAlike 4.0 International License.